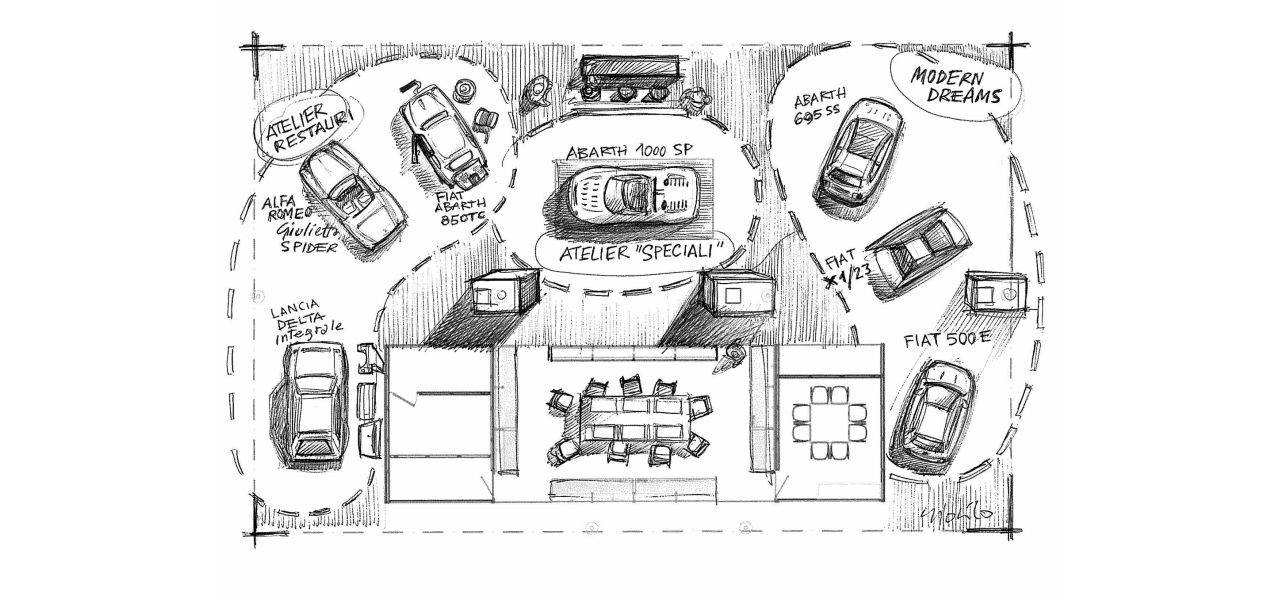 Stellantis Heritage takes part in "Auto e Moto d'Epoca 2021"
19.10.2021
One of the big names at the event Auto e Moto d'Epoca at Fiera di Padova will be the Stellantis Heritage department.
Since 2015, its main task has been to retrieve, protect and enhance the tremendous historical heritage of the Alfa Romeo, Fiat, Lancia and Abarth brands, specifically in terms of the fleet of the more than 600 vintage cars that it owns. Direct from its priceless collection come three of the five classic models on display: the Fiat X1/23 prototype, the first electric city car prototype ever; the style model of the Abarth 1000 SP, a contemporary interpretation of the iconic 1966 Sport Prototipo; and the Fiat-Abarth 850 TC, the first Abarth to take on the initials that stand for Turismo Competizione.

Curiosity abounds over the juxtaposition of the 1974 Fiat X1/23 prototype and the New (500)RED: the iconic 500, electric and electric alone, created as a result of the collaboration between Fiat and (RED). Aimed at disseminating the shared message of care for the environment, for the planet and for its people, it was unveiled a few weeks ago at an exclusive event on the roof of the Lingotto complex in Turin. The evocative pairing of these two models – both with a red livery – is a true representation of "back to the future", recalling 50 years of Fiat piloting of electric vehicles, specifically designed to promote electric mobility. After all, Fiat has always been at the forefront of world research into innovative and sustainable solutions.
Also in the spotlight are two classic cars owned by private collectors – a 1991 Lancia Delta HF Integrale Evoluzione and a 1960 Alfa Romeo Giulietta Spider Veloce. Just like the Fiat-Abarth 850 TC mentioned above, these two models have been meticulously restored by the experts at the Officine Classiche, the restoration and certification workshop at the Stellantis Heritage department. Work was done on the cars in their entirety, from the body and interiors to the mechanics and instruments, taking advantage of synergies with a wide range of technical departments at the Mirafiori plant.

Alongside the Delta Integrale, visitors to the motor show can also admire the bumpers and a selection of steel panels, reproduced specifically for this iconic Lancia model as part of "Heritage Parts", a joint project between Heritage and Mopar® that offers a range of original spare parts for vintage cars. Essential to safeguard the collectible and financial value of classic cars, the spare parts can be purchased from the official sales network or online, from the Mopar® e-store.

Last but not least, the exhibition is rounded off with the exclusive Abarth 595 Competizione, celebrating the 60th anniversary of the initials 'TC', that made their debut in 1961 on the Fiat-Abarth 850. Today, the same historical denominations – Turismo and Competizione – are the hallmarks of two versions of the new Abarth 595, the Scorpion brand icon that perfectly embodies the brand's two souls: style and performance.
Images: Stelantis Haratage